Disclaimer: As an Amazon Associate I may earn from qualifying purchases
Every BBQ lover will tell you that as much as the grilling experience is amazing, constant burns and spills are common. Thus, there is a need to not only have the best BBQ grills and cutlery, but also barbeque accessories. They may appear to be small and most people may look down upon them, but BBQ accessories play such an important role when it comes to the smooth running of an outdoor BBQ experience.
Having basic BBQ equipment is important, but having extra accessories makes a good situation even better. Imagine improving your cooking efficiency, flavours or even how well you clean your grills? All this thanks to having the right BBQ accessories. Most people can not differentiate between the different accessories on offer. Barbeque accessories range from aprons to meat thermometer to grill brushes to any other thing that improves the quality of your BBQ experience.
Here are some of the best BBQ accessories you should add to your kitchen in 2020: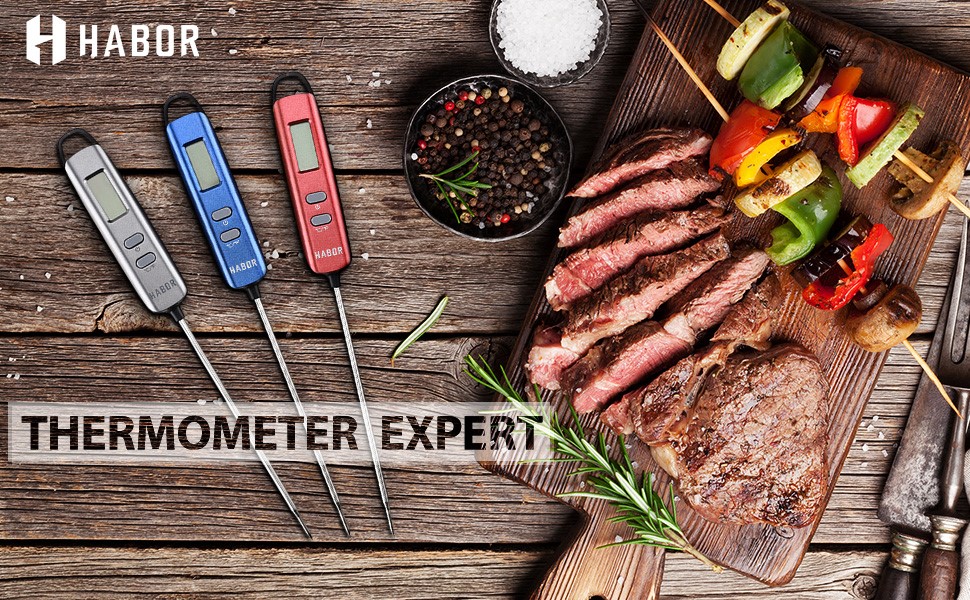 We start off with this cooking thermometer from Habor. It is said that for you to get a certain flavour in your grilled meat, you need a certain temperature. How then can you determine the right temperature if you don't have the best cooking thermometer? This is where the Habor meat thermometer comes in.
Undercooking or overcooking meat has been a persistent problem for most BBQ lovers for a long time with most people relying on guesswork. However, that should not be the case with as Habor 022 Meat Thermometer as it gives an accurate and timely temperature. You only need about four to six seconds and you will know your cooking temperature. That's super-fast especially for foods that require extra care.
The manufacturer ensures there will not be hand burns while using the thermometer by crafting a long probe. This is very considerate as it is often used in situations that use extremely high temperatures. The thermometer is made easy to use with the only instructions being to place it in or on the food or water and get the readings shortly thereafter. The sheath is made to last for a long time and its battery will serve you for a long while as it automatically shuts after 10 idle minutes.
The LCD display is very clear for easier readings and the manufacturer has given the users the option to choose between Celsius and Fahrenheit. Its ability to withstand a wide variety of temperatures makes it ideal to use for various foodstuffs. However, the thermometer cannot be used in a closed oven nor is it waterproof so great care is advised.
Pros
Easy to use
Has a long probe
Measures temperatures in 4-6 seconds
Can be used for a wide range of temperature
Cons
It is not waterproof
Cannot be used in a closed oven
If there is a valuable accessory you can have in your kitchen, it's a set of good tongs. Lavador came up with this set of amazing tongs that are not only versatile but also strong. The stainless steel is important in preventing rust and the silicone tips are firm meaning you can hold on the meat with confidence. The silicone tips are more durable giving you peace of mind. They have also included a button that helps you choose if you want to keep the tongs open or closed.
The manufacturer has ensured that your hands are well taken care of with a soft silicone grip. The grip is also non-slippery thus you won't worry when holding the tongs. It is also non-sticky and washing it does not require a lot of scrubbing. It is also dishwasher safe and made with food-safe materials. They will also have an anti-temperature which is important for BBQ and have a hang hole.
The heavy-duty tongs are built to last and the manufacture includes a 100% guarantee if the customers are not happy with the tongs. What we liked about this set was the idea of having different sizes included. This will help the client to use these tongs for a variety of food.
Pros
Easy to use
Dish washable
It is non-sticky and heat resistant
It has a button to lock or unlock the tongs
If you love the outdoor BBQ experience, then you probably know the need to have a well-lit grill. Most BBQ grills and smokers don't have any lighting and thus it is difficult to enjoy your BBQ once the sun goes down. But that should not be the case. The Kosin Barbecue Grill Light was made to solve those lighting problems you've been experiencing.
Using 9 bright LED lights, this accessory is poised to give you just the right amount of light you need to do your grilling. It produces a wide light that illuminates the area around your BBQ set up meaning the experience goes on even after dark.
One of the main issues experienced by BBQ enthusiasts is the mounting of the grill lights. It is to this effect that the manufacturer has included a magnetic base that helps to mount the lights with relative ease. This is on grills that are made of magnetic material.
Though the light is wide, there is a need to have it flexible so as to direct it to the area you want to light the most. This is why the vendor made the light with a 4.5' gooseneck that is easy to adjust to suit your needs.
The aluminium alloy used to make this light can withstand both high temperatures and low temperatures and hence it can be used anywhere, anytime. With 6 AAA batteries, the light will serve you for the longevity of your BBQ and any other place you need illuminated.
Pros
Has a magnetic base for easier mounting
It is very flexible
Durable batteries
Can be used in all weather conditions
The Original Bear Paws Shredder Claws
Shredding meat can turn out nasty and messy. You need the right tools for you to shred meat like a pro. This is why you need to have a bear claw or shredder in your tools of work. They may seem small, but they are such a lifesaver if you are all about a nice presentation of food.
The Original Bear Paws Shredder Claws from Bear Paw products will do the job just right. They made it super sharp that you don't only worry about your meat but also your fingers. With this, you don't need to worry about how your knife will shred the meat for you. You will easily grasp or shred any type of meat.
The Original Bear Paws Shredder Claws is made to be melt-proof and washing it is as easy as placing it in the dishwasher and pressing start. The BPA-free nylon is 100% food safe and can withstand temperatures of 475 degrees.
They are meant to easily fit on your hands thou the lack of a variety of sizes, they are comfortable to most hands. They can be used to hold, lift, shred or cut not just meat, but also other foodstuffs and fruits as well.
Pros
Easy to clean
Can withstand high temperatures
Easy to use
Comfortable on hands
Working in a BBQ set up can turn out to be dirty and nasty as food keeps falling in between grills or sticking around in places you don't need them. This is where the grill mat comes in, it helps you keep the BBQ area clean and pleasing to the eyes.
What we loved with these mats is the fact that they are not too thick to be a nuisance nor are they too thin to compromise on the quality. The manufacturer made this mat to be heat resistant and it does not mess with the flavour of your food. It can withstand a high as 5000-degree Fahrenheit. This all-purpose mat can be used in any type of grill of smokers, whether electric or gas or charcoal. It can be easily cut to fit right into your needs.
It is completely reusable provided you wash it clean. The cleaning does not require rocket science and it simple and easy. Just treat it as you would your normal BBQ tool. It is completely safe to use as the material has no harmful chemicals and its coated with PTFE-Fiberglass. The manufacturer is very confident with this mat that they include a lifetime guarantee. This simply means you will only need two mats in all your BBQ lifetime provided you take care of your grill mat.
Pros
Dishwasher safe
It is heat resistant
Reusable
There is a lifetime guarantee
Parting Shot
There you go folks, those are some of the most interesting BBQ accessories that you should have in your kitchen. The list varies greatly in terms of variety but features some of the most essential accessories to keep your kitchen running. Taking great care of your accessory is something every BBQ lover needs to do and this will help improve the durability of your accessory.