Disclaimer: As an Amazon Associate I may earn from qualifying purchases
Keyboards are an integral part when using computers. Some may not appreciate it, but having a good keyboard can separate a bad computing experience with a great one. That said, keyboards have a variety of functions with the most common one being typing, surfing or gaming. A simple keyboard can fit the billing for all this, but the current market is filled with amazing products that perform each of the functions with superior precision.
Shopping for the right keyboard is not a walk in the park with many people struggling to find just the right keyboard. Manufacturers are in a constant race to outdo each other, and in the process, they produce some excellent keyboards that are top-notch. However, as more great keyboards are released to the market so are the substandard keyboards which make it harder for the customers to differentiate between the two.
We have searched far and wide in the world of keyboards and we bring you the best keyboards for 2020: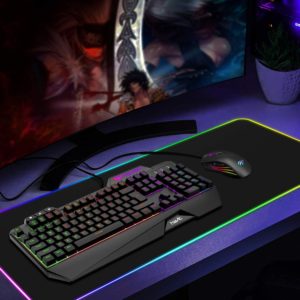 The Havit Keyboard Rainbow is a good addition to your accessory if you are a gamer who is in the market for a good keyboard. What stands out with this keyboard is the ergonomic design that allows for the wrist to rest. There backlighting is a nice touch and it does not need any additional software for set up as the keyboard is fully functionally upon plugin.
This keyboard uses USB connectivity and has up to eleven multimedia combinations. Since it was designed for gamers, the WIN keys can be disengaged while gaming. The keyboard has 19 keys that function without conflicting while its "WASD" keys can be easily interchanged.
To prevent slipping, the keyboard is designed with a rubberized holder that is placed underneath the keyboard. This helps you enjoy your game without worry about your fingers slipping. The keyboard is compatible with a wide range of OS form Win 2000 to Win 10 to MAC. The keyboard comes with a multicolored mouse giving you more value for money.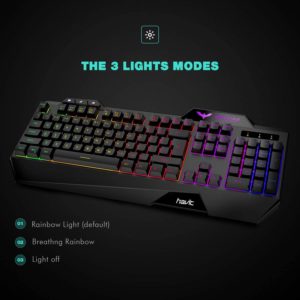 Pros
Has an amazing design that allows the wrist to rest

Can easily customize the keys

Compatible with many operating systems

Has an anti-slip feature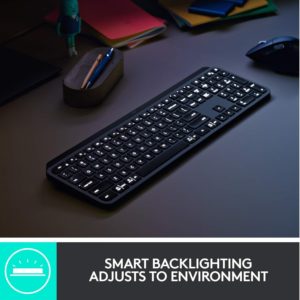 When Logitech designed this keyboard, they only had one thing in mind, the comfort of the user. This is why the designed to match the shape of your fingers and this gives you comfort. Every tap in the spherically shaped keys gives awesome feedback.
What stands out with this keyboard is the automatic illumination that lights up the keyboard once it senses a hand is near. The hand proximity detection feature is energy saving as the keyboard only illuminates once a hand is close to it. Typing using this keyboard is easy and fast and you don't strain your fingers or wrists. The keyboard is a good asset for typists who spend a lot of time using a keyboard. It is compatible with most of the OS and can be paired with three about devices.
The keyboard can last for up to 5 months when the backlight is off and up to ten days when fully charged and the backlight is on. This is an amazing feature and it charges with a USB-C cable. You can monitor the battery of this wireless keyboard using the available Logitech software which also has additional features.
Pros
Sleek design

Long battery life

Automatic backlighting

Compatible with most OS
One of the greatest disadvantages of having a full keyboard as a gamer is having the keyboard coming into your way while playing. This is why Kinesis came up with this keyboard that is expertly divided into two. This way, the gamer can easily remove one part of the keyboard creating room for the mouse. This is ideal for users who have limited space.
The keyboard is well illuminated and it has a signature RGB lighting that quickly separates it from the others. The backlighting can have up to effects such as the spectrum, wave, rain, and others which can be customizable for a good display. With a color-per key of over 16M, you are guaranteed of an exceptionally lit keyboard.
It has a good response time of 1ms, and all its 95 keys can be easily customized for better control. It is compatible with MAC, Windows, Linux, and chrome and is "plug and play", so no additional software needed to use it.
This keyboard is designed to minimize fatigue and enhancing precision by giving users the choice to be more flexible. The keyboard can easily be moved back to a full keyboard as and when needed. The design also ensures that there is minimum wrist fatigue as the wrist position is rather good.
Pros
Can easily separate into two solid parts

Well light keyboard

Easy to customize

Plug and play settings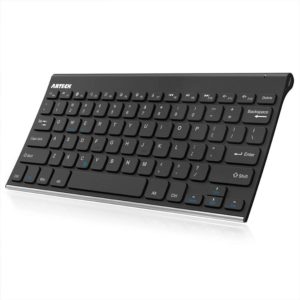 The last keyboard on our list is this keyboard from Arteck. It has an amazing design and its size does not reflect its performance. This little keyboard is made with stainless steel that adds touch durability. Its ergonomic design is pleasing to the eye and typing is quiet and comfortable as it enhanced by low-profile keys.
The keyboard is ultra-thin and easily portable as it is also lightweight. It can be easily carried from place to place as it fits well in messager bag, a case or backpack. The package comes with a USB charger, a well-elaborated guide and the stainless keyboard and a 2-year warranty.
The Arteck Bluetooth stainless Keyboard connects with all the major OS that allows Bluetooth connectivity. The keyboard is also good with tablets and iPods. The battery life stood out as it can last for up to six months on a single charge. You wonder how you that's possible, the 6 months is based on the daily usage of two hours. It is made with a rechargeable high capacity lithium battery.
The keyboard is easy to connect and it's easy to use. The Arteck Bluetooth Keyboard goes for a good price and its features mean users are getting value for money.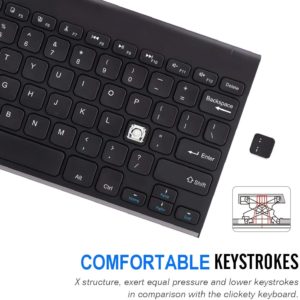 Pros
It is compatible with all major Operating Systems

A long-lasting battery

Slick design that's highly portable

It is affordable
What to look for in a keyboard
A good keyboard encompasses a few things with the most notable ones being comfortability, compatibility with your computer and the right size. Without boring you with the technical aspects of a keyboard, here is what a good keyboard should have:
Connectivity
The most common types of keyboard connectors are USB and PS/2. Both of these are good with the USB cable having a slight advantage of being flexible as you can easily change the port. The size of the connecting cable also varies, so be sure to check that and ensure it meets your preferred measurements.
If you are going for the wireless keyboards, be sure to check if the keyboard and your PC or laptop are compatible. Wireless keyboards are usually of two types; the Bluetooth keyboards and wireless keyboards that have a unifying receiver. It is important to confirm if your preferred choice is compatible with your device otherwise you will waste your time and money.
Backlight
If you often use your PC or laptop in the dark, then you probably need your keyboard to be well illuminated. The backlight is one of the most forgettable features while buying a keyboard and it is also important to check if your preferred keyboard has it.
Ergonomic Design
We often spend a lot of time on our PCs or laptops and most of this time is spent on the keyboard. This is why you need to have a keyboard that maximizes comfortability. More and more manufacturers are designing keyboards, which maximizes on comfort and reducing the strain and stress we subject or fingers and wrists to.
Price
No one loves wasting their hard-earned money or sub-standard products. You need to do some due diligence to get value for money. The more specs you want the more money you will part with. However, you can forgo some aspects such as size to get a keyboard within your budget.
The form factors
You should have realized by now that not all keyboards are the same. There are three categories when it comes to the form factors; 60%, 80%, and 100% full keyboards. The latter is usually described as the standard keyboard and has Numpad, the arrow keys and the function keys. The 80% keyboard does not have a Numpad while the 60% does not include the Numpad nor the arrow nor the function keys.
Parting shot
There you go, folks! Those are some of the best keyboards in the market. Whether you are a typing enthusiast or a gamer for life, you need a keyboard that matches your desires. Be sure to invest in a good keyboard as it will go along way in ensuring you enjoy using your keyboard.