Disclaimer: As an Amazon Associate I may earn from qualifying purchases
Snorkelling is one of the most enjoyable activities to do while on vacation. The best thing about it is it can be done by all people irrespective of their age or occupation. All you need is the guts and the right gear and you are on your way to enjoying some of the best sites the ocean floor or rivers have to offer.
Getting the right snorkelling gear is easier said than done. The cut-throat competition in the market is pushing some vendors out and in their desperate bid to stay in business, they are compromising on the quality of the gear. In all fairness, nothing spoils your vacation like a bad snorkelling gear. Imagine a gear where you are constantly taking in water, or your visibility is constantly reduced due to fogginess. This will ultimately ruin your snorkelling experience.
This is why you need to invest in the right gear. However, that's easier said than done with the internet being awash with hundreds of snorkelling gears. We have done the dirty work for you, and we present, The Top Snorkeling gear of 2020
U.S. Divers Panoramic Snorkel Set
We kickstart this list with this snorkelling set from US Divers. It caught our eye with its premier quality and its ability to do the job with ease. The mask is crafted with 4-windows that gives users a nice view of the surroundings. The glass lens is tempered to make them strong to withstand the pressure that comes with deep-sea diving.
Comfort is crucial in any snorkelling set and this is why the US Divers made this set with hypoallergenic silicone that is super comfy. The idea of constantly holding on to the mouthpiece for the length of the dive is not only cumbersome but also tiresome. It is to this note that the gear is made with fatigue-reducing, silicone mouthpiece. The top snorkel is designed in such a way that it closes when submerged in water. This, in turn, helps keep the breathing tube dry.
The fins play such a significant role in any snorkelling trip and thus you need fins that fit just right. The US Divers Panoramic Snorkel Set comes with a wide range of foot sizes. This means most people will fit in the fins. However, for those of us who love snorkelling with their boots on, it is important to factor that in while choosing the fins. The foot pocket comes with heel straps that make it secure while at the same time comfortable on your heels.
The set comes with a portable bag that is not only lightweight but also has ventilation that allows your gear to dry.
Pros
4 windows for a peripheral view
Comfortable mouthpiece
Comes with a variety of fin sizes
Lightweight backpack
Cons
Some masks have been known to leak
Mask can fog
This set makes it in our list for its awesome design, two windows glass Len mask, adjustable fins and a dry top snorkel. They also include a travel gear bag that makes moving your gear safe and easy.
Having a panoramic view is very important in every mask. It enables you to have a clear view of surrounding for up to 180 degrees. What we loved about this mask is that it has a hypoallergenic silicone skirt that is comfortable for users. The mask skirt is soft and flexible giving users an easy time. The mouthpiece is designed with silicone that's up to the standard food-grade level that means users don't strain while using it. To keep the face free from water, the manufacturer includes a watertight seal around the mouthpiece. What we found better with this gear is that it does not have funny smells around its mouthpiece.
The dry top snorkel is designed to stay dry as it locks every time it's submerged in water. This helps keep the breathing duct dry. The manufacturer includes a low purge valve that expels any water that may find its way in the mask.
The trek fins in this set are not only lightweight but also adjustable. They are also long and fluid giving you an extra push with every kick. Made with durable rubber, the foot strap and the foot pocket are made to feel comfy on the user. The fins have grips that prevent falling while walking on them. The zip-up bag is a nice touch and the shoulder straps make it ideal for travelling.
Pros
The grip on fins for easier walking
Has tempered glass with panoramic view
Comfortable foot straps
It has a low purge valve to eject water out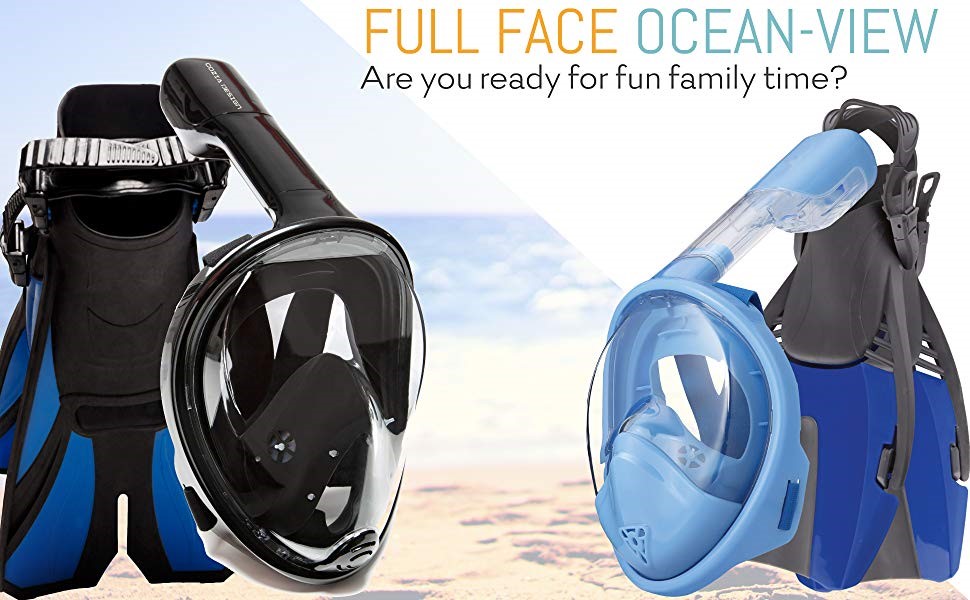 Full view masks have their own advantages and some few discomforts. For starters, the full mask view gives a wide view that ensures that you don't miss anything that's happening around you. The other plus side of using a full mask is that you don't need to constantly deal with a mouthpiece. This makes the whole experience hustle free and more enjoyable. Though they don't allow for a lot of time diving, they are an awesome snorkelling gear.
It's with this background that the Cozia design Snorkel Set was made. They designed a full mask that suits both young and not so young people. The full mask allows for more natural breathing and fogging is limited. It has a drain valve that helps you reduce fogging if it happens to form.
The straps used to fasten the masks are very comfortable though people with long hair should consider that to avoid discomfort. The masks don't need a lot of tightening, and the ability to control how much you want to tighten or loosen the straps makes it stand out.
The fins are made to feel comfortable and the manufacturer included extra paddling to ensure they stay in shape for a long time. The fins are made to make the users feel comfortable and enjoy the swim underwater. The vendor also includes a well-detailed guide on how to use the snorkel set.
One of the main downsides of this set is that it does not permit prolonged underwater stay. The main reason for this, and most full mask sets, is the carbon dioxide we breathe out stays in the mask and can cause a blackout. Most instructors don't encourage this kind of set for prolonged tours underwater.
Pros
Full view of the underwater
Comfortable straps for easier use
Extra paddling on the fins
Cons
Not recommended for prolonged underwater use
Mention the name Cressi, and most snorkelling enthusiast will probably know it. They have been known to produce excellent and top-quality snorkelling gear. This is why this set is finding its way in our list. People also know Cressi from their affordability of their products.
One of the most common issue you will hear people complaining about is the leakages that occur when they dive. Well, Cressi has solved that problem with this a special valve in this gear that helps seal this gear allowing you to dive at peace. The anti-splash, as they call it, will close automatically once you hit the water.
Since we all have different face shapes, the manufacturer has included a skirt around the edges that is flexible enough to take the shape of the user. This kind of flexibility is important since it is not only comfortable on the users, it allows everyone to enjoy the gear without dealing with leaking saltwater.
It comes with 2 window design that lets you enjoy a good view of life underwater. One of the most unique features about this gear is the rapid-action buckle that lets you adjust the straps to your own preference.
The fins of this gear are made to be short and thing. This way, users can manoeuvre delicate underwater adventures without causing any damages. Thou they are short, they have a powerful thrust that will push you to your preferred destination. For easier storage, they have included a mesh bag that allows the gear to dry faster.
Pros
Anti-splash valve that allows you to stay dry
Rapid-action buckle
Powerful fins
Mesh bag for easy storage
Parting shot
In a world where information and misinformation are readily available, it is easy to get confused. It is to this that we took it upon ourselves to do all the research and bring you the top snorkelling gears. We hope you will find what you were looking for and you will be on your way to enjoying snorkelling.
While snorkelling gears vary from one to the other, some wonder what does a good gear entail. Well, a good gear consists of three parts, fins, mask and snorkel. All three are important and each plays a paramount role in giving you the ultimate snorkel experience.
Since snorkelling gear is important, it's paramount to go for the best quality since bad gears cannot only ruin your experience, they can also put your life in danger. Once you get your gear, it's important to take great care of it once you complete your trip from the deep. Rinsing it with fresh water is very important with some gears needing detergents to while cleaning. Above all, follow the instructions of your guide (if you have one) and take care of yourself down there.